You never have enough, they are irreplaceable, offer storage space, they are identification - handbags. And on November 19.11.2017, 14 from 18 to XNUMX p.m. there is the opportunity to expand your own range of bags.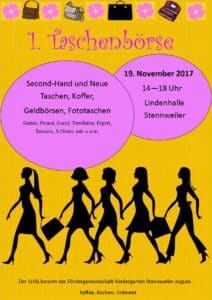 Then the day care association of KiTa Stennweiler, in cooperation with the municipality of Schiffweiler, organizes a large pocket exchange for a good cause.
Well-preserved bags will be available from just 1 euro. Of course there is also coffee, cake and cream.